Brandy Agerbeck writes, speaks and teaches on the power of drawing as your best thinking tool.

After a childhood chock full of drawing, Brandy attended Grinnell College, which nurtured her critical thinking and communication skills. She earned a Bachelor of Arts degree in Studio Art, concentrating on printmaking.

In 2016, she celebrated twenty years as a graphic facilitator, mapping out her clients' complex conversations in live, large-scale drawings. In 2012, she published The Graphic Facilitator's Guide: How to use your listening, thinking and drawing skills to make meaning. Her first book has been embraced by a global audience, and she's considered a leader in the field of graphic facilitation.


Age 7, drawing at the Agerbeck family cabin in Wisconsin. That's not an Instagram filter. It's just the 70's.
While being the one person in the room drawing for a group is as gratifying as it is intense, Brandy now aims to help others embrace drawing for themselves to do their own best work.
Blending her experience in fine arts and facilitation, Brandy delivers interactive, customized keynotes and workshops. In her engaging and productive sessions, she demystifies drawing to develop everyone's thinking skills so your participants can learn to more easily reduce overwhelm, communicate clearly and think critically. Her signature workshop is The Lab, a three-day immersion into visual thinking, offered in Chicago and abroad. You can see her in action and watch the first inkling of this book in her 2013 TEDxWindyCity talk, "Shape Your Thinking."

Age 40,drawing during her closing speech at EuViz in Berlin, 2014.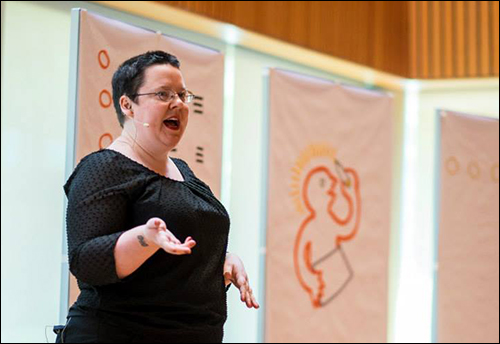 Speaking at Alumni College at her alma mater Grinnell College in 2015.

Brandy lives in Chicago with a delightful fella and a usually-delightful cat. She delights in traveling, crafting and watching spy movies.
Contact Brandy about creating a workshop or interactive keynote for your group >