Graphic facilitation is the practice of using words and images to create a conceptual map of a conversation. A graphic facilitator is the visual, usually silent partner to the traditional, verbal facilitator, drawing a large scale image at the front of the room in real-time.

Graphic facilitation is both process and product. Watching the graphic facilitator creates the map as the group speaks is highly experiential and immediate. It focuses the group as they work, aiding concentration by capturing and organizing their ideas. Everyone can watch their ideas take shape.

The manifestion is most resonant with the visual, spatial and systematic thinkers in the group, but it's a powerful tool of recognition for everyone.

After the event, the map becomes a document; evidence of the meeting's progress and direction. This resulting conceptual map is an engaging and meaningful tool, because the audience watched its creation in relationship to their experience. Images being emotional and subjective, participants can intrepret the image and recall their own "Aha!" moments.
I bring my 20 years of experience as the one person in the room drawing for the group. Graphic facilitation is an extremely adaptable process that can be use in a wide variety of events with different processes, across industries and sectors. Contact me to discuss your event's objectives and to talk through how you can get the most value from my skills. Three basic event types:
Most integrated and impactful


Strategy Meetings + Retreats

Large scale events


Annual Conferences

Non-live projects


Co-creation with your team
In these internal meetings, I draw at the front of the room and make your conversations take shape. This process keeps your group focused and engaged and increases productivity and collaboration.
At large annual conferences, I am mapping your plenary session presentations off to the side of the stage. We post the drawings in common areas to let everyone take a closer look on breaks. 
I can collaborate with you onsite to map out your processes and develop imagery for your communications and strategy documents
Take a look at my 20+ year portfolio >
Integrating 3 panel discussions into one drawing at The Kennedy Center Arts Summit, 2016.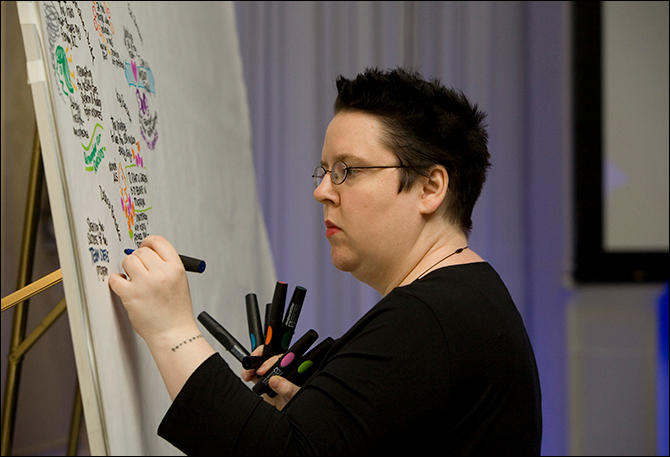 Graphic facilitation for SSM Health Care at their annual conference in 2011.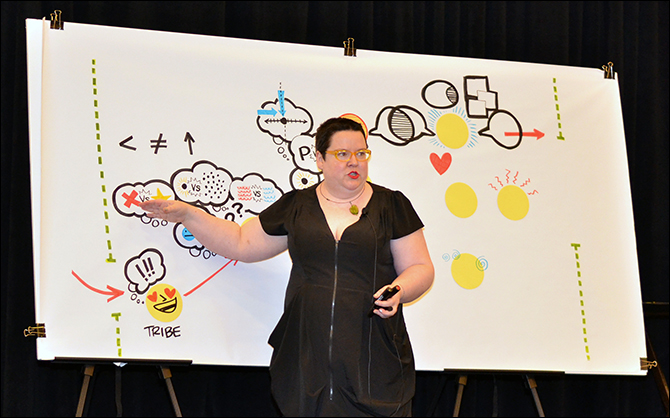 Speaking at the International Forum of Visual Practitioners Conference in DC, 2016.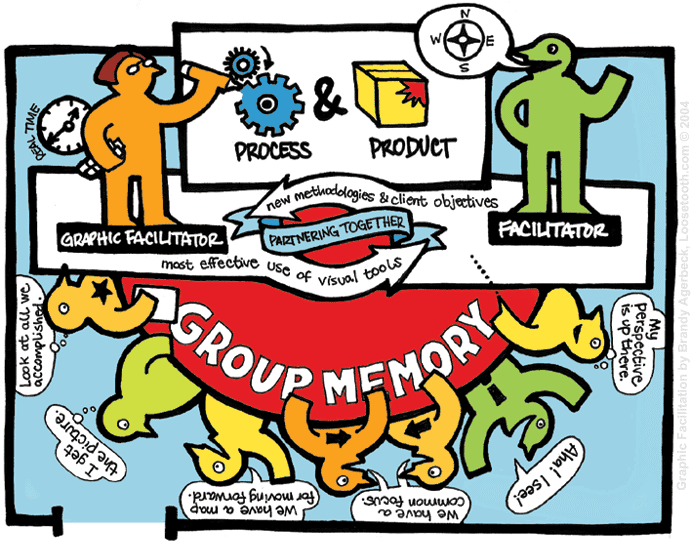 The skills of a graphic facilitator are four-fold & simultaneous:
| | | | |
| --- | --- | --- | --- |
| | | | |
| Listening | Thinking | Organizing | Drawing |
| to the group as an outsider, gathering points and details at a meta level, above the politics of the group. | about what information and what level of detail is most salient to facilitate the group, deciding what is put on the map. | the conversation, giving it structure, using critical thinking and spatial skills to create a whole, integrated image. | images and symbols to create narrative and appealing to the visual and emotional parts of our brains, while adding supporting structure through color, arrows, groupings. |
| | | | |
Brandy Agerbeck,
graphic facilitator
contact me

Brandy Agerbeck writes, speaks and teaches on the power of drawing as your best thinking tool. She celebrates twenty years as a graphic facilitator, mapping out her clients' complex conversations in live, large-scale drawings. Based on this work, she wrote The Graphic Facilitator's Guide: How to use your listening, thinking and drawing skills to make meaning. Brandy follows this much-loved volume with a book for every visual thinker, The Idea Shapers: The power of putting your thinking in your own hands. Cultural analyst Patricia Martin calls it, "A new alphabet for the visual age."

Blending her experience in speaking, teaching and facilitating, Brandy delivers interactive, customized keynotes and workshops. In her engaging and productive sessions, she demystifies drawing to develop everyone's thinking skills so your participants can learn more easily, reduce overwhelm, communicate clearly and think critically. Her signature workshop is The Lab, a three-day immersion into visual thinking, offered in Chicago and abroad. You can see her in action in her 2013 TEDxWindyCity talk, "Shape Your Thinking."
Ready to work together? Please contact me.
Looking to see more?
Peruse the GF portfolio
Short on time?
Scan my Top 10 Tour
Have more questions? Read my FAQ
Want to learn from me? Here's are upcoming events and my talks and workshops
Want my latest news & offers?
Join my monthly newsletter