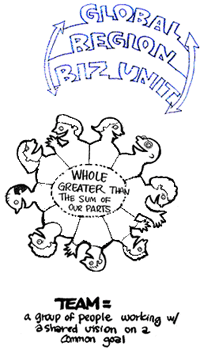 An example of working with the client and the facilitator on how to best present a model they are introducing to the group. I knew the team we were working with to the Belbin Team Roles. Since the client sent me the link to learn more, I knew that there was 9 roles. I built the drawing in three steps: 1, LEFT I drew a circle of 9 characters in the center, give me room to work from.

2, RIGHT As each team member shared each of the nine roles, I filled in the nine characters.
3, BELOW As the day continued and they learned more on how to use the Belbin model into practive, I added more and more details around the central model. I appreciate that this day's drawings work both as the whole and the parts, and the big picture and the details.